JOIN THE REVOLUTION
The Pilates Reformer is probably the most recognisable apparatus of the method. Being part of TMRACADEMY means that you are an agent of a positive change within the industry, equipping your clients with information and detail about the true method, just without the dogma and 'ivory tower' vibes of big-brand Pilates schools.
Study with us in a format that suits you; module by module with the most comprehensive approach to the method on the market. As a graduate, you will come to know the apparatus and eventually the system with depth and confidence.
THE ORIGINAL WORK +
We teach you the original work as made by Joseph Pilates. We go the extra mile to explain where some first generation teachers have embellished or made worthwhile modifications and how this deviates from Mr Pilates' work and in which situations this can be useful.
We then take the masterpiece that is the true Pilates method and using building blocks put together by our course director you'll be equipped to teach the fundamentals of intelligent movement and equip your clients to achieve their goals with the original work.
We show you the meat and potatoes of the work so you understand not just the exercises but the detail and philosophy... this way you aren't a graduate scratching your head thinking, "Do I even teach Pilates?"
OG Pilates + movement education + exercise science + common sense + a good time = TMRACADEMY.
STAND OUT
Have you felt the difference between Classical Pilates and other dilutions of the method? Before you sign up to another course and become another cookie-cutter Reformer instructor ... save yourself the heartache and try some sessions IRL or online with us. Feel the difference, then make a difference!
We love working with health professionals looking to bring an edge to their clinic.
SUPPORT
We are truly here for you. Training courses can be a challenge for a variety of reasons, but that's the benefit of training with TMRACADEMY, you'll have the course director's email address and phone number. As industry veterans, we will work to ensure you graduate with every success and happiness.
As a member of the TMRACADEMY community, you'll be the first to know about our free student zoom work-outs and work-ins and if you can't make it live, you'll receive a recording for your Pilates pleasure. You're not going to slip through the cracks, we promise.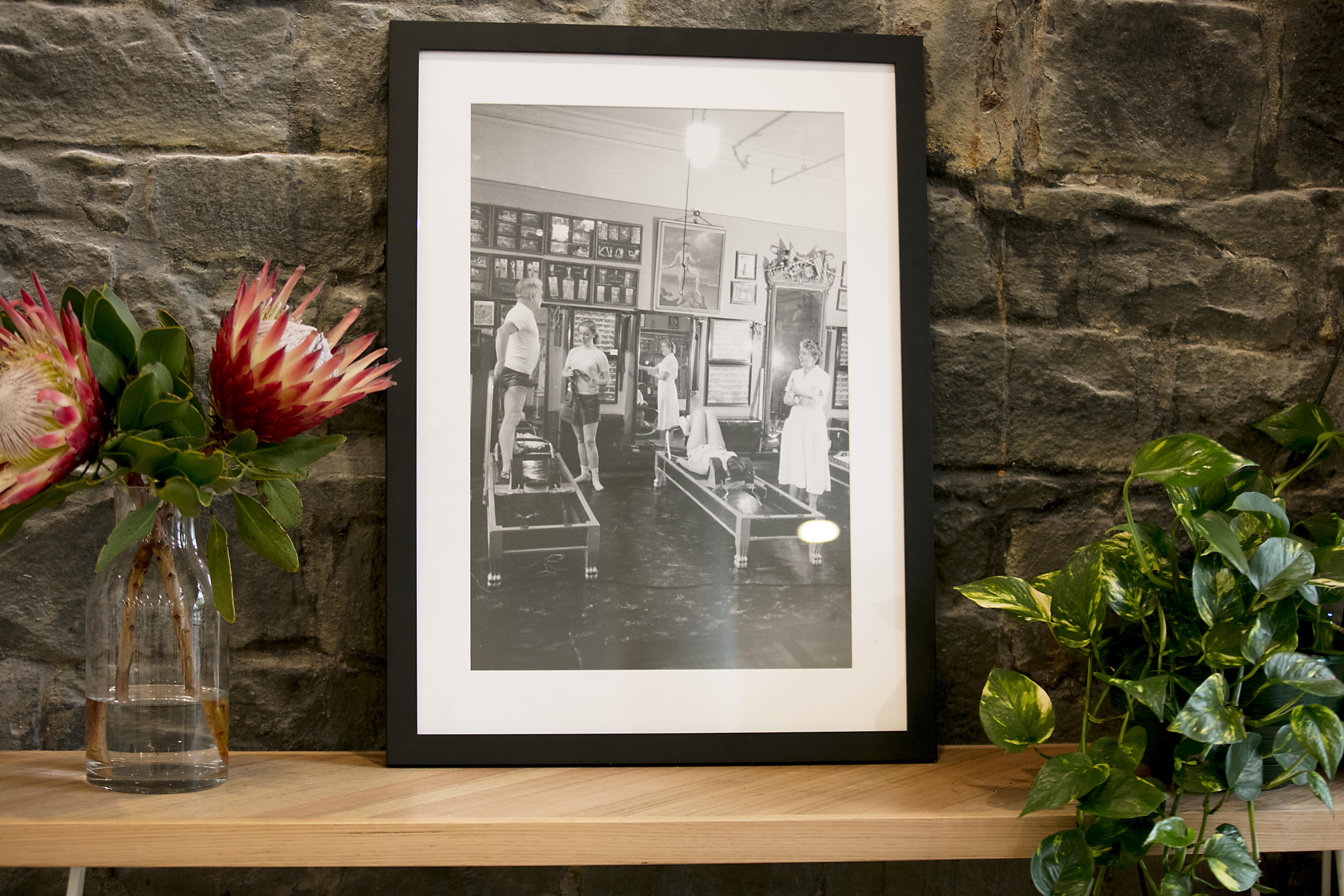 ATTENTION TO DETAIL
TMRACADEMY is known for educating fabulous teachers who share our love of detail, precision and care for the method.
Want to be the absolute best you can be? Attend our in-person delivery sessions or participate in 1:1 mentoring with Nicholas Psarros. You'll receive clear feedback and can trust that this information will best prepare you for your final teaching assessments.
We aim to offer twice yearly delivery weekends for every apparatus in major Australian cities and work from our home studio in Melbourne.
Professional excellence bonus: courses from our faculty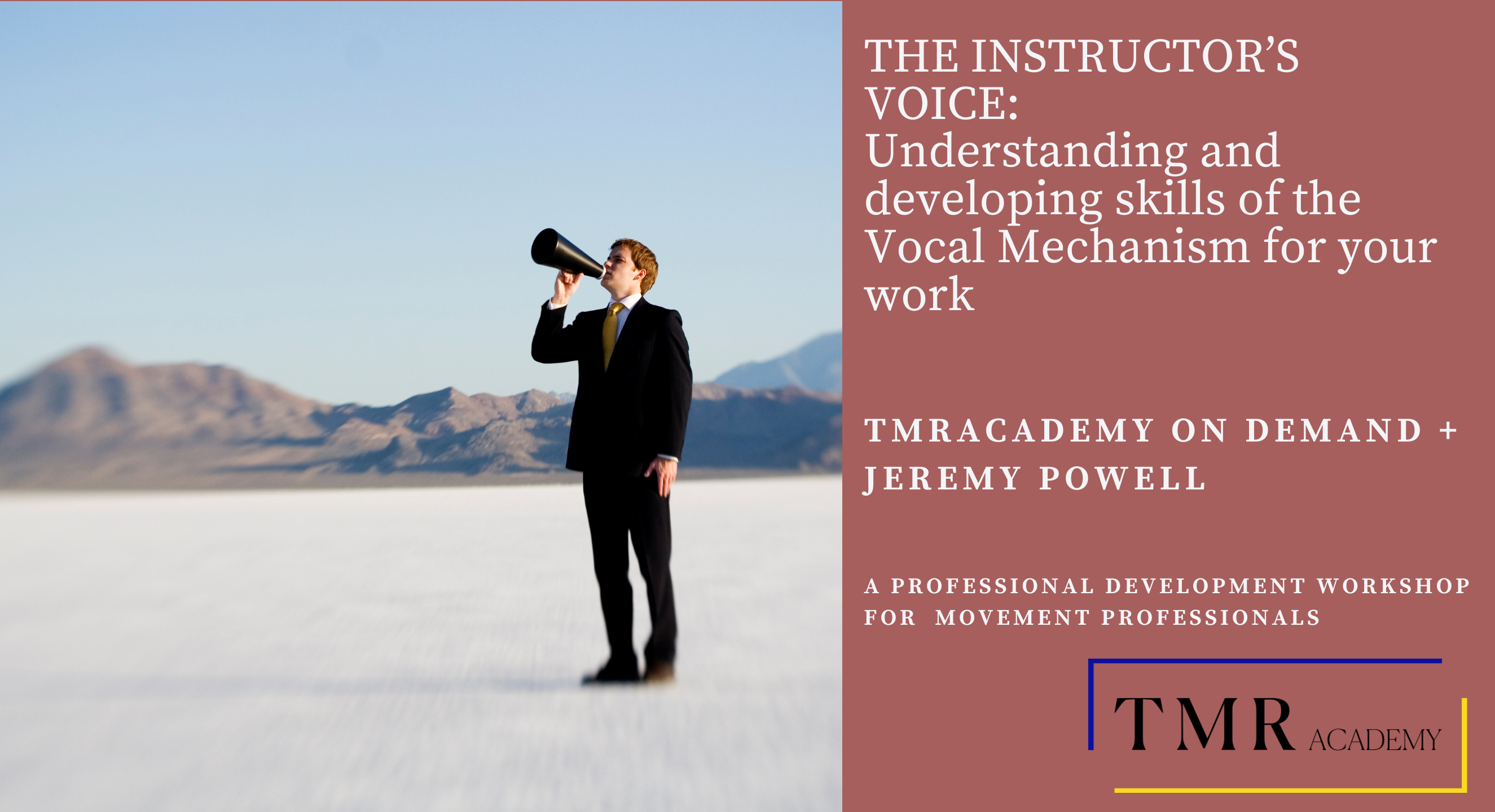 This unit is here to offer you an exploration into vocal anatomy and simple vocal drills which will reduce vocal stress and discomfort.
You will also learn how to care for your teaching instrument by colouring and shading how you speak to produce sound so that you don't ever have to shout.
This workshop is included in the teacher training course specifically to assist instructors who work in the group format or multi-instructor studios.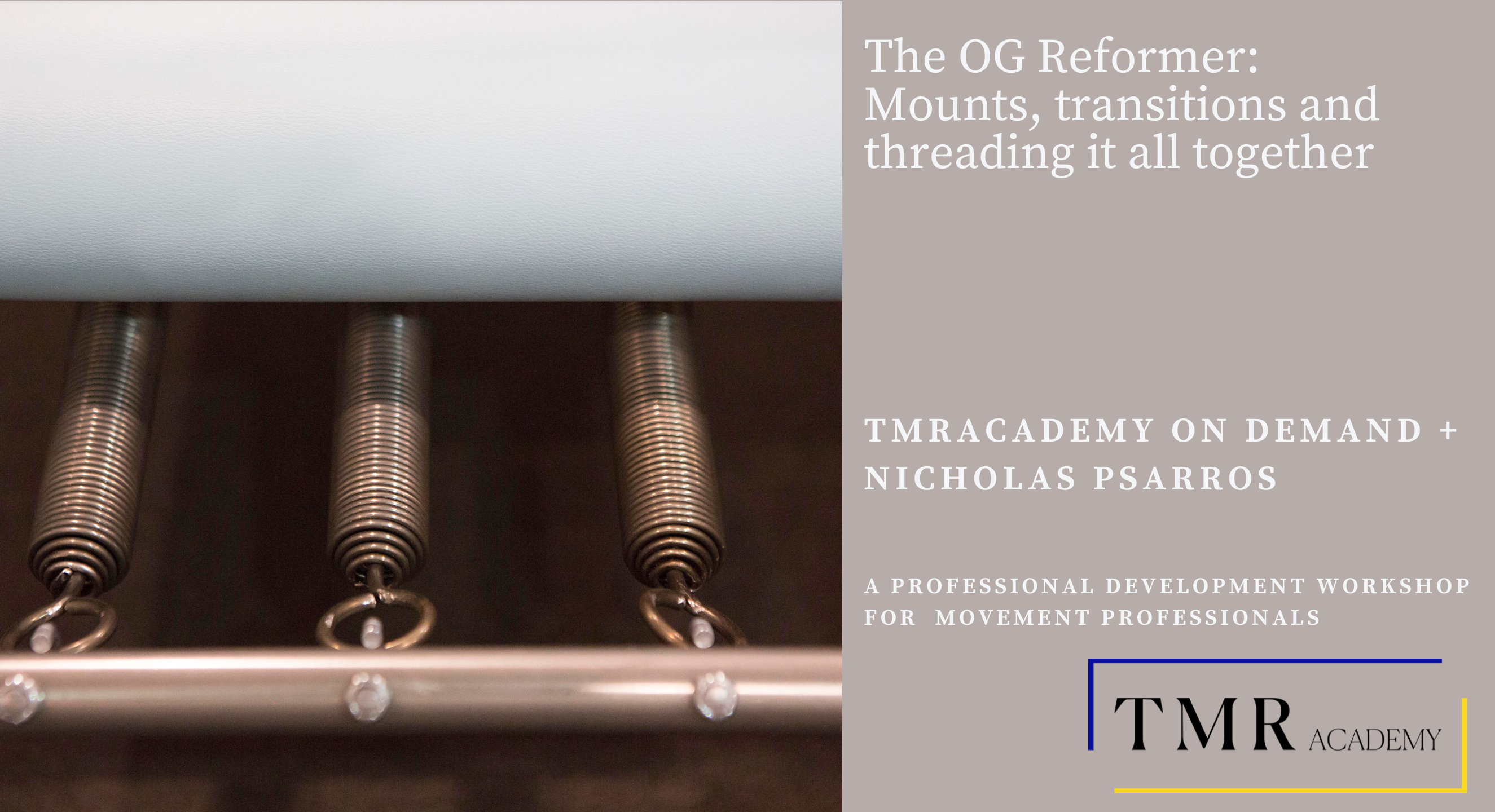 Decoding the conventions and transitions
Is it even 'classical' if you don't do the transitions? That's a big statement! Let's just say that avoiding the transitions between each exercise may be doing you more harm than good.
In fact, many of them act as motor skill builders for the next big thing! Learn the steps behind every transition and how you can prepare your client for success without strain.
This short workshop and accompanying notes will help you understand why the transitions are there and how they set your client up for the next exercise.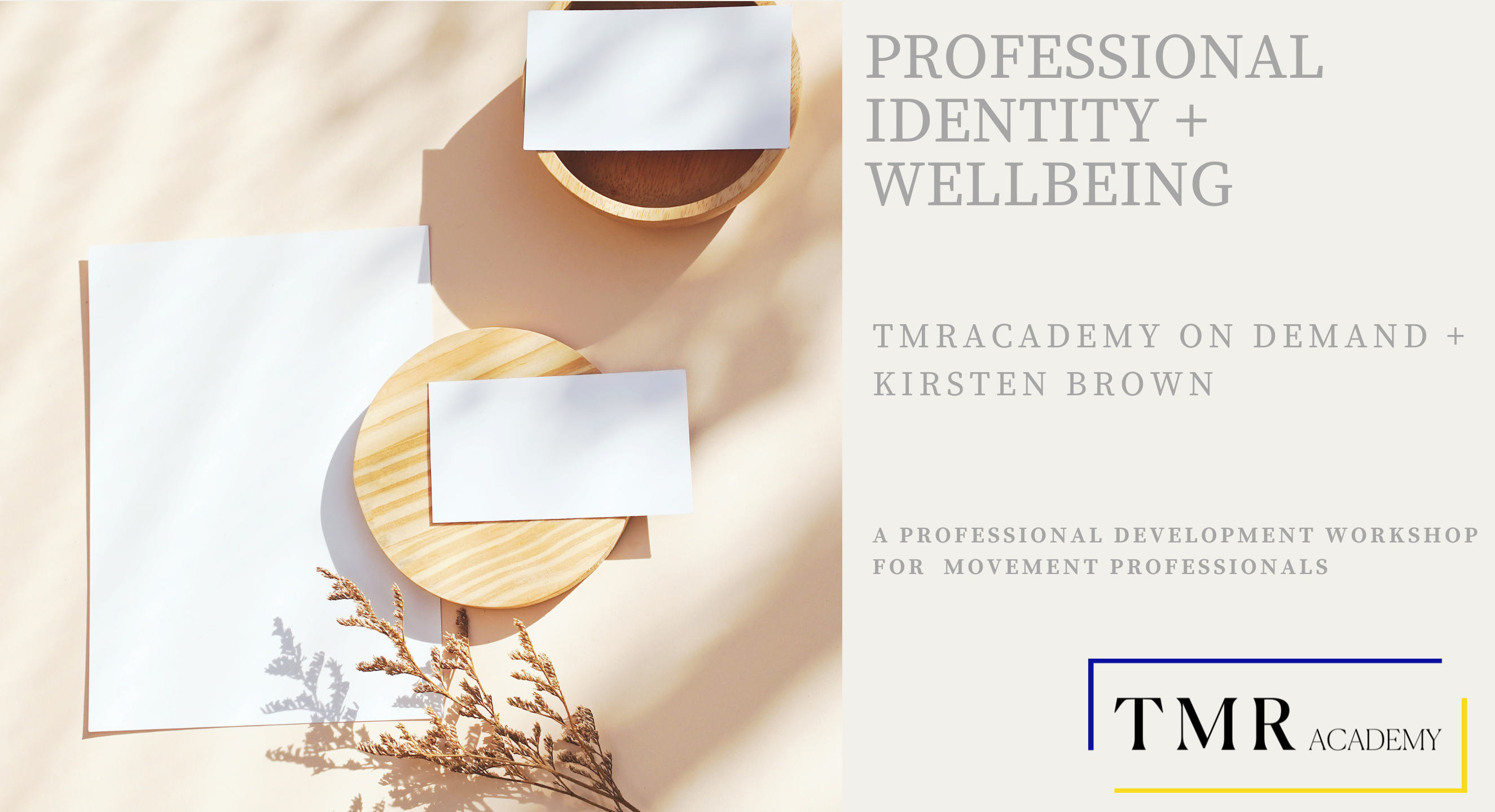 Professional identity + wellbeing in the industry
The health and 'wellbeing' industry is not always healthy for instructors and teachers. Many of us have too many horror stories about workplace issues.
TMRACADEMY knows the power of working within your strategic values to empower a client community.
We have included this professional workshop to boost your wellbeing, workplace satisfaction and professional longevity.
COURSE CURRICULUM
THE WORK
The original sequence
Motor skill building blocks for success in the studio
THE CRAFT
Classical concepts and hands-on cueing
Decoding the classical ways
The Flexionless Reformer - our approach to bone health with the Classical method
First steps in the studio
First ten exercises to teach on the Reformer to new clients
Top tips for signature exercises
Building comfort in key exercises
Developing the knowledge to work the exercises on any brand of equipment
Finding links between one movement and the next despite the apparatus
ASSESSMENT
Learning tasks that build your knowledge and enhance the tools that make an excellent teacher
Physical proficiency of the exercises (recorded or live)
Teaching assessment (recorded or live)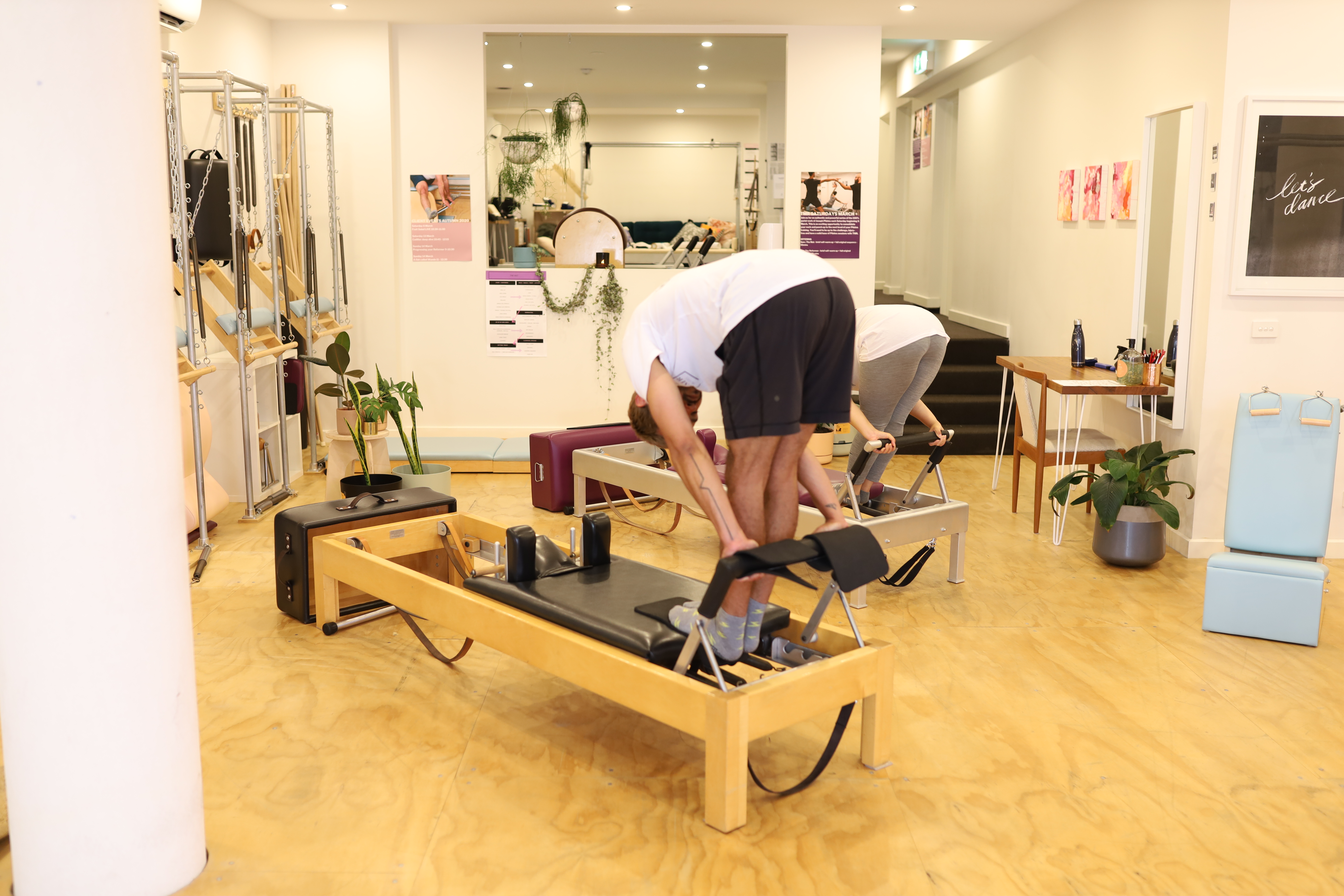 ACCESS
We are a small organisation with a big heart and a big dream... equipping Pilates lovers with the tools to study the highest quality course material in an environment that suits you.
Study purely on-line or attend apparatus weekends when convenient, you'll have access to the faculty and our ever-growing library of student and graduate resources. 
We have lovingly recorded every exercise and drill in our syllabus and continue to add to the library, constantly.
Stay fresh on the detail with lifelong access to the platform.
Building skilled and holistic professionals
Signing up to this course also comes with bonuses to help you stay vocally strong and mentally clear.
Check out our workshop library for other ways to stay at the top of your game.
Check your inbox to confirm your subscription