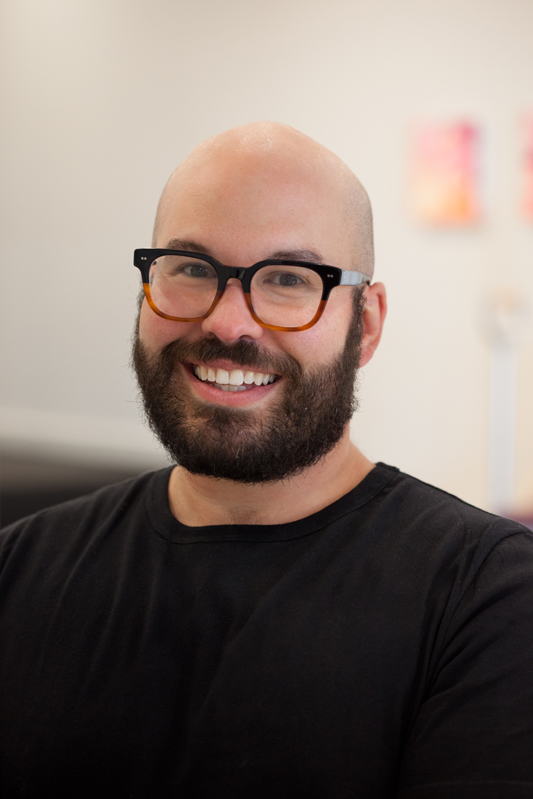 Nicholas Psarros
TMRACADEMY Founder
For over eighteen years Nicholas Psarros has shared his passion for the craft of Pilates through improving the health and wellbeing of the broader community.
While studying Performing Arts as a Dance major at Brisbane's QUT, he used Pilates to rehabilitate from several injuries. He eventually decided on a career transition has trained extensively since 2002. Nicholas is triple-certified in the Pilates method, a member of the Australian Pilates Method Association and also an Exercise and Sports Scientist. He works with plenty of common sense, pop-culture references and works to make the Pilates method accessible to all. The Movement Refinery founded in 2005 has included Pilates, Gyrotonic, teacher training and strength training.
Nicholas was the Strength and Conditioning coach for nearly four years at The Australian Ballet School, where he co-developed an innovative program at the national centre for elite classical dance collaborating with a diverse team of health professionals and experts to best support the future of Australian dance.
In 2016, Nicholas established The Pilates Teacher Network. TPTN is a group for like-minded instructors from every 'school of Pilates' and currently supports over 1000 members through a monthly activation and social media forum.
In 2017, Nicholas brought The Movement Refinery (TMR) back to life. TMR was founded with the intention of providing a space for the community to reconnect and find true inner strength and is one of the only studios in the country that teach Classical Pilates as founded by Joseph Pilates nearly a century ago.
TMRACADEMY is the training arm of the daily studio and aims to connect industry professionals with the original method through comprehensive and short course training both in person and online. The courses are flexible, supportive and are known for 'filling the gaps' with the nitty gritty of the method and approach that helps clients to succeed.
2020 gave rise globally to a unique set of challenges especially for a small business that depends on service provision in real time. Although the physical studio was closed for nearly eight months Nicholas wasted no time in caring for his clientele and teacher trainees by establishing online virtual classes, teacher training sessions and three editions of the Virtual Pilates Summit. This event reached participants in the Antipodes, UK, USA and Indonesia with contributing facilitators from near and far. This was a highlight of 2020 and an event that served to educate, connect and fuel our fire.
Dedicated to his gorgeous dog Prince Dexter, you'll often find Nicholas at the park or beach likely thinking of new workshop topics to digest the Pilates method with!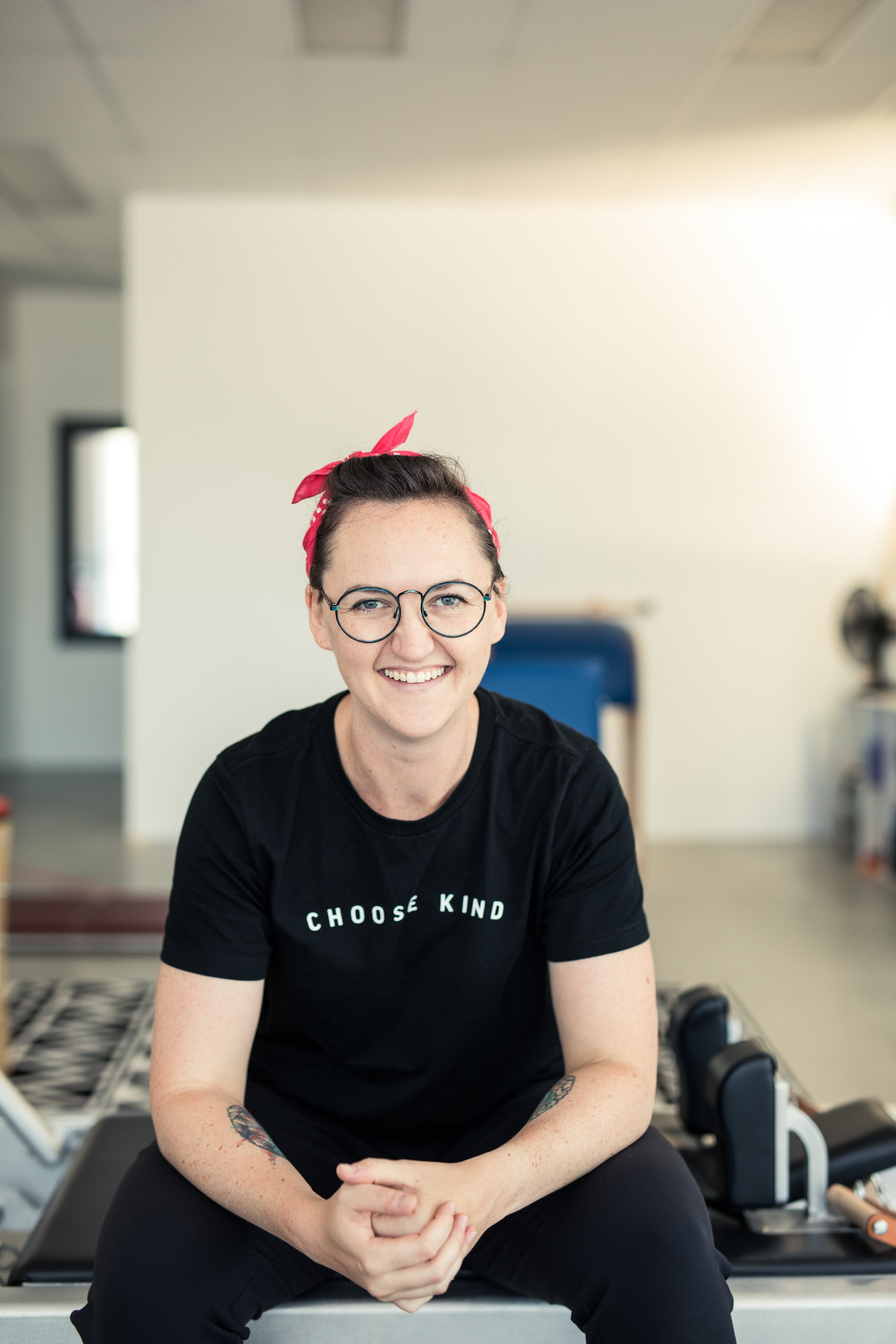 Alex O'Neill King
Director AOK Keep Moving
Hello! I am AOK - Alex O'Neill-King
As an injured teenage dancer, I was introduced to Pilates as a rehabilitation tool by my Physiotherapist. Thankfully this practice allowed me to keep dancing for many more years - fuelling my movement curiosity, and taking me on a journey to study Dance at Victorian College of the Arts in Melbourne.
It wasn't until a few years later that I discovered a new joy in helping others Keep Moving!
Returning to study, I completed my Diploma of Pilates Instruction and then continued with a Physiotherapy degree (life-long student over here).
During my two years working at the Royal Melbourne Hospital I had the opportunity to work in a range of acute, sub-acute and outpatient roles, while continuing to teach Pilates with an amazing community of people. A work opportunity then took myself and my husband on an exciting and challenging overseas adventure that was eventually cut short in 2020, resulting in our return home to sunny Perth.
My mission is to help people build confidence in their bodies ability to change, adapt, and MOVE.
Launching my own space in 2020, within the supportive and active community at Athlete X, has given me the opportunity to continue work with people across the lifespan, supporting them to be their strongest selves. Here we are providing in-person and online Physiotherapy and Training sessions, Small Group Training sessions and Professional development workshops.
Remaining connected with the Pilates Industry Community has been a vital part of my own growth and learning. I also love providing ongoing education to other Pilates Instructors that helps them 'connect-the-dots' between current best practice guidelines and their teaching.
Scientific research is continually evolving our understanding of how our bodies work, and how we can most effectively help our people - reconciling this with The Pilates Method and the array of benefits that it brings has become an important part of my teaching
Looking forward to MOVING with YOU!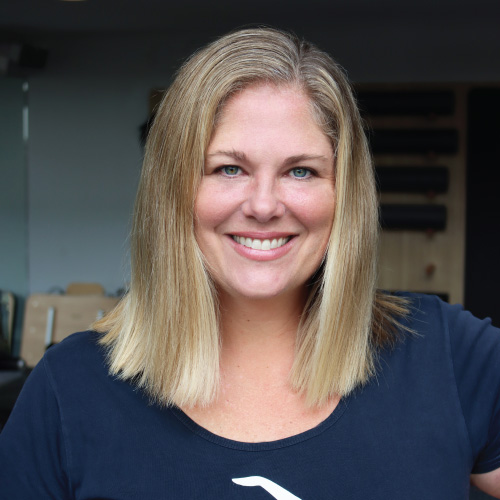 Susan Cottrell
Managing Director & Physiotherapist The Body Refinery
Susan has combined her skills in physiotherapy with her love of Pilates to teach the importance of movement. She operated her own massage business while completing a degree in physiotherapy and then worked as a physiotherapist at Sydney's St Vincent's Hospital before she moved to private practice in Brisbane in 2006. Susan also holds a degree in Biomedical Science from the University of Wollongong.
After suffering on-going neck pain, Susan found Pilates as a way to rehabilitate her neck, it worked so well decided as a physiotherapist Pilates would benefit many of her patients and started to train as a teacher in 2005, after trialling a few courses she finally found Polestar Pilates and commenced training with them in 2007 in their first course in Brisbane.
Susan was attending The Pilates Studio New Farm as a client when she bought the business in July 2007. In early 2009, she renamed the studio The Body Refinery, offering a full suite of services including physiotherapy, Pilates and remedial massage. In 2019, Susan added Myotherapy, Exercise Physiology and Osteopathy to the suite of services.
A passion for movement motivated Susan on taking further training in GYROTONIC®, Running, Parkinson's disease and Women's health and more.
Along with her passion for movement, Susan has developed her business to become well known and highly successful. The Body Refinery has an exceptional reputation for its customer service and client care. In 2015 out of the desire to make the highest quality Pilates accessible to all and promote healthy movement and optimal health, Susan developed The Body Refinery Online. This extension of The Body Refinery, allows everyone to get access to a wide range of online Pilates classes or specific programs.
Passionate about ensuring that quality Pilates instruction is available to everyone Susan became an educator for the Polestar Pilates education program in 2017. She is passionate about getting Pilates recognised as a profession in Australia, which she feels starts with ensuring all Pilates teachers are properly qualified with comprehensive training to teach the method.
In 2017, Susan started to develop workshops for the Pilates community on using Pilates in rehabilitation but also in business development. Susan has now presented her workshops in Melbourne, Sydney and Brisbane, as well as at the PAA conference in Sydney in 2019.
Susan is currently completing training in Classical Pilates with TMRACADEMY Melbourne and has graduated from the Owner Manager Program


Megan Steers
Megan began working with Pilates in London in 1997, learning to teach movement for movements sake away from the text book teachings of Physiotherapy (PG Dip Manip Physiotherapy – Otago Univeristy 1996). It created opportunities for her patients to move in such a way that they felt safe. While in London I started working and lecturing for Australian Physiotherapy and Pilates Institute (APPI) in the United Kingdom.
Relocating to Melbourne in 2003 to open a studio, Megan continued her love of movement practice and worked with both the public and instructors with great success. Frequently invited to Brazil and Portugal, Megan enjoyed a close working relationship with many clinicians teaching Pilates concepts to physiotherapists.
As a very experienced clinician and on a recent 'thoracic spine and pilates self-learning phase' Megan's existing interest for breath-work has found a new depth in understanding and in practice.
With a growing interest in Women's health and treating/coaching people with persistent pain, Megan is often referring to the original writings of Joseph Pilates and his concept around the breath.
Megan is currently working in a country Physiotherapy and Rehabilitation practice in Gisborne while also studying a Post Graduate Certificate in Women's health and continence at Curtin University.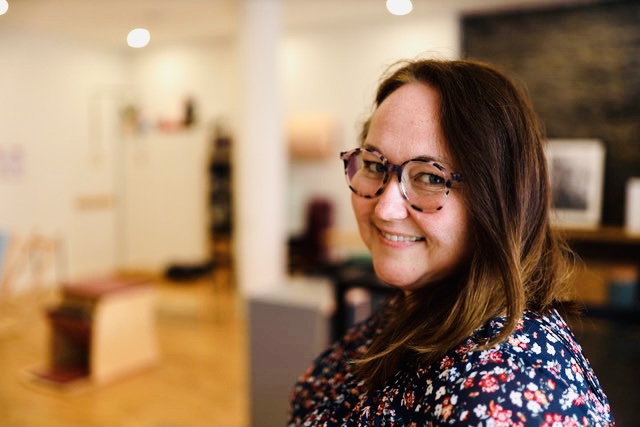 Kirsten Brown
Astute, creative and courageous, Kirsten partners wholeheartedly with the organisations she works with. Kirsten brings diverse experience and a deep toolkit to the work of leadership and culture transformation. Her strong partner network ensures that you will get the solution that is fit for your purpose. She is accredited in a number of leadership and culture diagnostics, has lead Agile teams and takes a human centred approach to everything she does.
Kirsten is also an accredited health coach.
Jeremy Powell
JEREMY is a New York City based voice teacher originally from Australia. Currently Jeremy is an Adjunct Professor of Applied Voice at the Western Connecticut State University, and maintains a studio in Manhattan for professional voice users from many fields.
Originally from Sydney, Australia, Jeremy worked as a musical theater actor and musician in Australia whilst also working as a voice teacher. He was the vocal coach for the original Australian company of The Lion King, for the Sydney Theater Company Actor's Company, and as well as maintaining a high profile voice studio, gave master classes in many major Australian educational institutions.
Jeremy lived for 5 years in London, where he was Head of Musical Theater at The Urdang Academy in London, as well as teaching in his private studio and in Madrid, Spain.
Following that time, Jeremy moved to New York City where he now lives and works.
Quaifications:
Grad. Dip. Mus. (repetiteur) (Sydney University/Sydney Conservatorium)
B. Mus. Ed. (Sydney University/Sydney Conservatorium)
A.Mus.A. (piano) A. M. E. B.
A.Mus.A. (singing) A. M. E. B.
E.M.T (Estill Voice International)